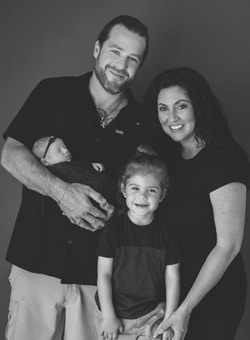 Chiropractor
Chase DeCubellis D.C.
Dr. DeCubellis attended Palmer College of Chiropractic Florida earning the title Doctor of Chiropractic Medicine and is Board Certified in Physiotherapy. Before Chiropractic College Dr. DeCubellis attended Ridgewood High School in New Port Richey. He then received a full academic scholarship to The University of South Florida earning a B.S. in Biomedical Sciences.
For more than a decade after graduating from Chiropractic College Dr. DeCubellis continues to dedicate his life to helping the New Port Richey and Trinity communities achieve pain free lives and increased function without drugs or surgery.
Dr. DeCubellis remains heavily involved in the New Port Richey and Trinity Communities where the DeCubellis family has lived for over 100 years.
He and his wife Danielle have been married for over 10 years. They are parents to their Son Rush, Daughter Indigo, and are owners of a Blue Merle Labradoodle named Merlin. Dr. DeCubellis enjoys playing and recording music in his home studio as well as sports, fishing, kayaking, boating and all that Trinity and New Port Richey Florida has to offer.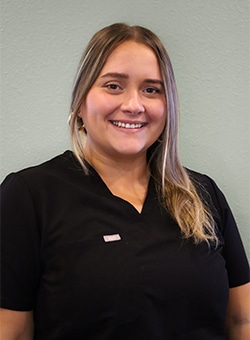 Chiropractor
Amanda Del Valle D.C.
Dr. Del Valle grew up in the beautiful island of Puerto Rico. She studied at the Interamerican University of Puerto Rico in San German where she obtained her Bachelor's in Biology. She attended Palmer College of Chiropractic Florida earning the title Doctor of Chiropractic Medicine and is Board Certified in Physiotherapy.
Dr. Del Valle is an evidence-based chiropractor who is passionate about improving your pain and function. Her goals are to get you moving better, feeling better, and back to doing all the things you love.
Dr. Del Valle is happily settled in Tampa and enjoys staying active with her Goldendoodle Pia. She loves exploring the local restaurants and beaches in Florida and spending time with friends and family.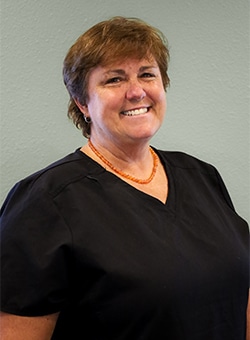 Massage Therapist
Laura Atkinson L.M.T.
License number MA#22890
Laura has been a massage therapist for 23 years, with 22 of them being in a chiropractic office. She received her schooling from The Advanced Massage Institute of Cocoa Beach. Laura chose this profession because her goal is to help people. Being able to see people physically and mentally change from when they walked in to when they leave the office is very rewarding to her. Laura specializes in deep tissue, sports and therapeutic massage.
Massage Therapist
Heather McKinney L.M.T.
License number #MA99521
Heather is a licensed massage therapist and a medical massage practitioner. She has been providing massage since 2007 in North and South Carolina and relocated to Florida last summer. She graduated from South Piedmont Community College in 2007 with a degree in Therapeutic Massage. During that time her therapy has helped people relieve the pain of injuries, stress, car accidents, body discomfort, and maintain good bodily and mental health.
Heather first became interested in massage after an injury had her sidelined from her basketball career. She searched for other options of healing and found massage. She had surgery to repair a torn ACL and meniscus and started massage school two weeks later. Doctors told her she would never regain full mobility in her knee and that she would be in therapy for at least a year. Massage played a vital role in her recovery. In only 4 1/2 months she was discharged from her physical therapy with 95% mobility and range of motion. This gave her a passion for helping others recover and heal as she did.
Heather specializes in deep tissue massage, sports massage, Swedish massage and hot stone massage. She completed her certification to become a medical massage practitioner in 2015. She uses several techniques including orthopedic and neuromuscular massage in her sessions to help alleviate tension and pain.
Heather is married to her husband, Jaman, and together they have 3 children, Lacie, Sofia and Jamison.
OFFICE HOURS
---
Monday
9:00am - 12:00pm
3:00pm - 6:30pm
---
Tuesday
9:00am - 12:00pm
3:00pm - 6:30pm
---
Wednesday
9:00am - 12:00pm
3:00pm - 6:30pm
---
Thursday
9:00am - 12:00pm
3:00pm - 6:30pm
---
Friday
9:00am - 12:00pm
3:00pm - 6:30pm
---
Saturday
Closed